Best Rooftop Lunch cum Hitea Buffet
Posted by:
ranaahmad77_xrykm26v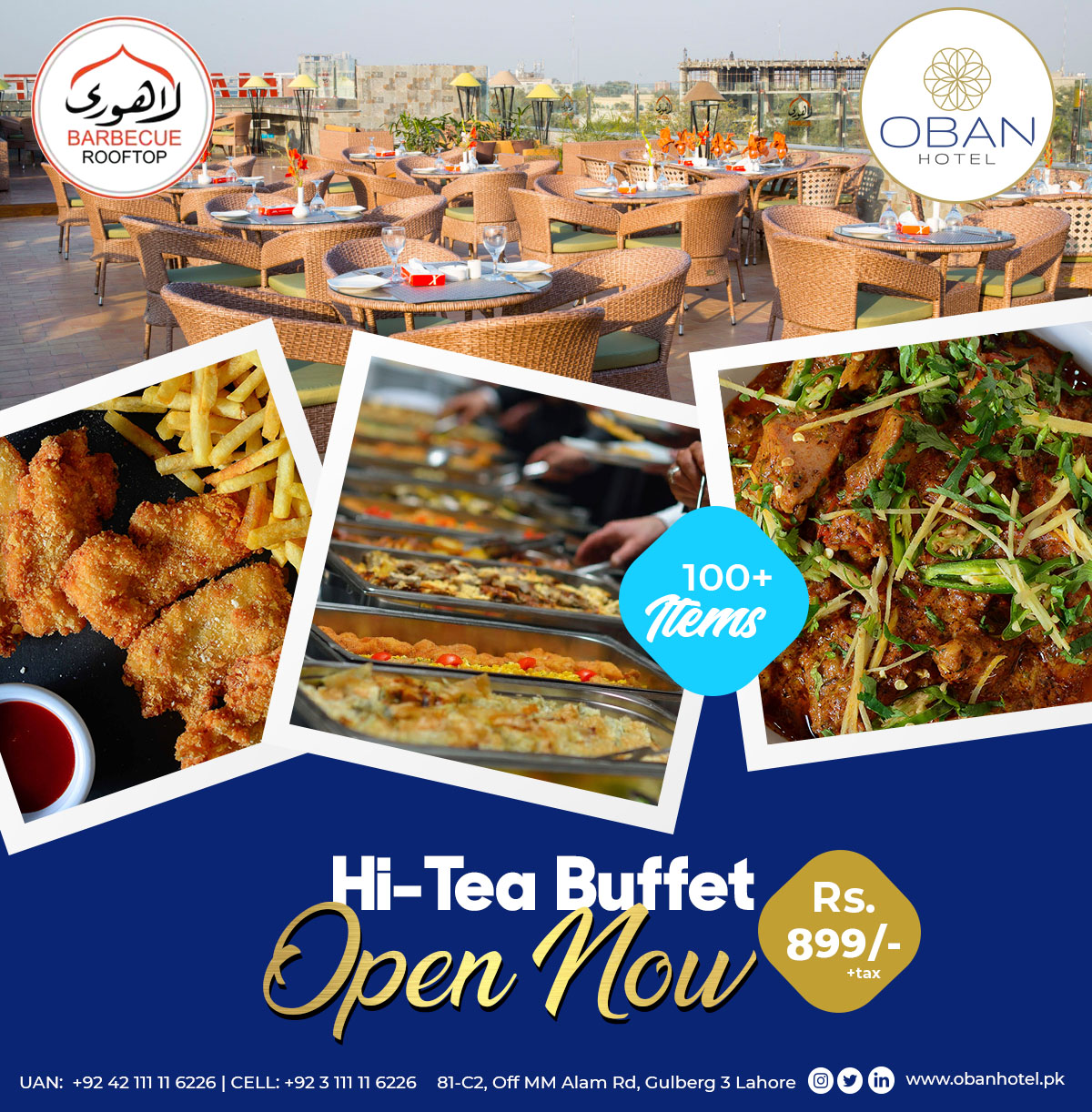 Lunch/High Tea Buffet only in 899+Tax on weekdays and 999+tax on weekend
FAQ
What is the Hi-tea price?
Rs: 899 + 16% tax on weekdays and 999 +tax on weekend
Total 1,043/- on weekdays and 1159 Rs on weekend
Are children free?
Children upto 4 years are included free.
Children 4-8 years will be charged half.
What is the timing of Hi-tea?
We have 3 hi-tea/lunch slots as follows:
1:00 pm to 2.30 pm
2.40 pm to 4.10 pm
4.20 pm to 5:45 pm
Each slot is 1.5 hours
Is Hi-tea available 7 days a week?
Yes. Hi-tea is available 7 days a week including Saturday and Sunday.
Can I have a separate arrangement for our gathering?
Yes. Please call us for further details.
Is birthday / party decor available?
Yes.
What are decor possibilities and charges?
Decor charges depend on size and design. Standard decor charges are Rs: 5000. Please call us for custom decor details and its charges or drop us your number and we shall call you back.
Can we bring our own cake for a birthday party?
Yes, you can.
Is prior reservation needed?
Prior reservation will give you preference. You can come as a walk-in but then seating arrangement is not guaranteed and will be subject to availability.
Do we need to pay in advance for reservation?
Pre-Payment for reservation is only required for when the reservation is of more than 10 persons.
Is the seating arrangement outdoor?
Yes. Only outdoor available yet.
Indoor seating has been banned by the government but contact us regarding indoor seating so that we can confirm according to the current situation.
What about hot weather outdoors?
We have fans with mist showers above all tables so it is quite pleasant.
And the weather is getting better day by day too.
Can I call to ask for more details?
Yes, please call our banquet manager, Mr. Ahsan, any time on (0306 6226333) for
further details and reservations.
Menu of Hi-tea?
SOUP OF THE DAY
Chef Special Soup
WELCOME DRINK
Orange / Mango / Peach / Lemon
SALAD
Sweet Corn Salad
Red Been Salad
Guardian Salad
Roasted Potato Salad
TANDOOR
Roghani Naan
Aaloo Wala Naan
Garlic Naan
Kalonji Naan
Kulcha
Zeera Naan
Green Chilli Naan
Ginger Naan
Gur Wala Naan
Tandoori Roti
MAIN COURSE
Chicken Haleem
Kabab Masala / Kofta Masala
Chicken Biryani / Chicken Pulao
Vegetable Spring Roll
Chicken Petties
Channay
Potato Cutlus
Chicken Wings / Chicken Pakora
Chinese Rice Of The Day
Chinese Gravy Of The Day
Pasta Of The Day
Assorted Cold Sandwiches
Puri
Pathora
Assorted Pakora
Onion Ring
Zinger Fries
Vegetable Samosa
Gola Kabab Seekh Kabab
CHAATS
Dahi Baray
Channa Chaat
GOL GAPPAY LIVE CORNER
Gol Gappay
SAUCES
Mint Raita
Zeera Raita
Plumb Sauce
Honey Mustered Sauce
Tatar Sauce
Appricot Sauce
DESSERTS
Chocolate Balls
Shahi Tukra
Fruit Trifle
Chocolate Browni / Bususa
Shooter With Gelly
Chocolate Moose
Strawberry Moose
Assorted Pastries
Gurwaly Chawal
HOT BEVERAGES
Tea
Green Tea
Coffee